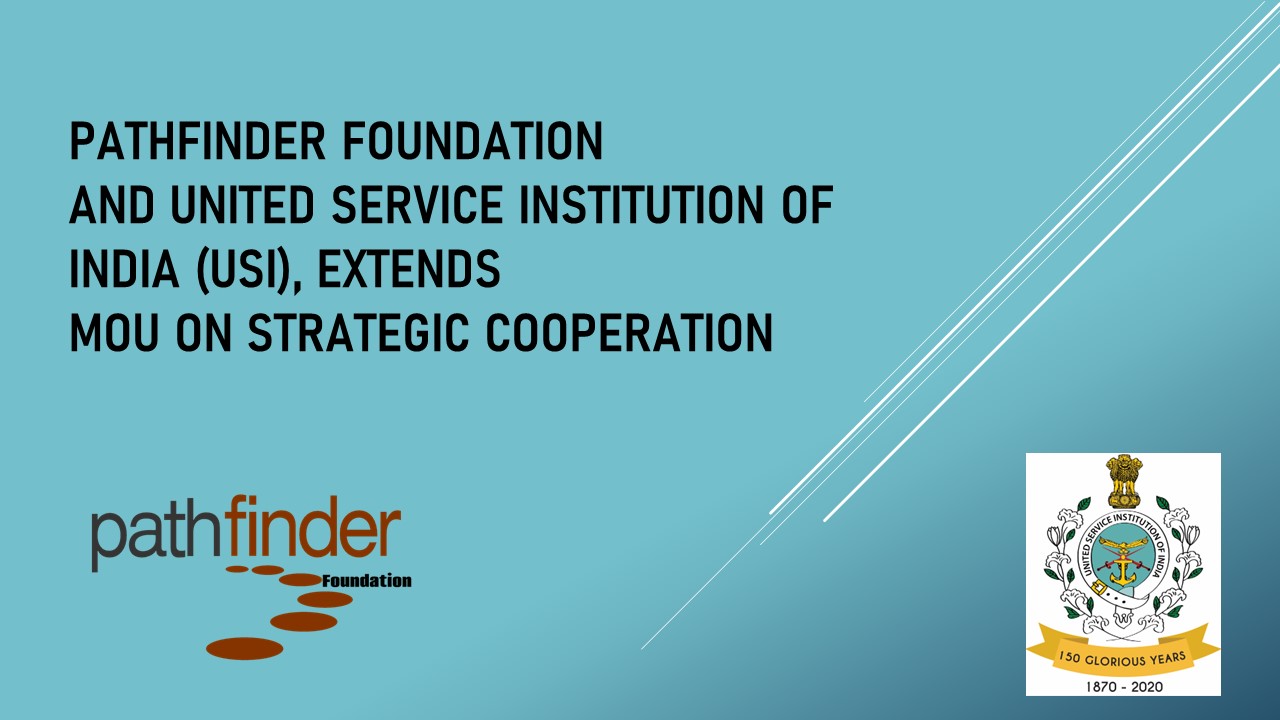 Pathfinder Foundation, USI extends MoU on strategic cooperation - 23rd August 2022
The Pathfinder Foundation extended its Memorandum of Understanding (MoU) with the United Service Institution of India (USI), New Delhi, with a virtual signing recently. The MoU was signed by Bernard Goonetilleke, Chairman, Pathfinder Foundation and Maj. Gen. B K Sharma, AVSM, SM & Bar (Retd.), Director, United Service Institution of India. The event was also attended by Dr. Dayaratna Silva, Executive Director of Pathfinder Foundation and Maj. Gen. R P S Bhaduria, VSM (Retd.), Head CS3 of USI.
The MoU is expected to strengthen existing relations between the two organisations through closer cooperation in research, contribute to policy development processes in their respective countries, and develop and foster research cooperation among South Asian countries on humanitarian, economic and security related issues. It is also expected to support policy development at both the bilateral and international levels.
The MoU is also intended to engender and foster conditions for maintaining regular interaction and cooperation between the two organizations. The MoU will provide a basis and framework for cooperation in the fields of research and promote the exchange of ideas and views between Indian and Sri Lankan researchers and practitioners in the fields of international security, international relations, diplomacy, defence, military affairs, peacebuilding and conflict studies, disruptive technologies, WMD, UNPKO, South Asia, Indo-Pacific, maritime security and maritime heritage, among other areas.
The USI of India is India's oldest and premium tri-service think tank founded in 1870 by Colonel (later Major General) Sir Charles MacGregor for 'Furtherance of knowledge in the art, science and literature of the National Security in general and of the Defence Services in particular'. Today USI has about 15,000 members, comprising security forces officers, diplomats, bureaucrats, academics and scholars. USI has niche expertise in national security, geopolitics, International Relations, Military Diplomacy, Military Heritage, UN Peacekeeping operations, professional skill developments of policymakers and Revolution in Military Affairs.
The USI conducts many events at the national and international level, exchanges delegations with partner research institutions, publishes seminal literature and runs the institution's website, blog page and social media platforms.
23rd August 2022