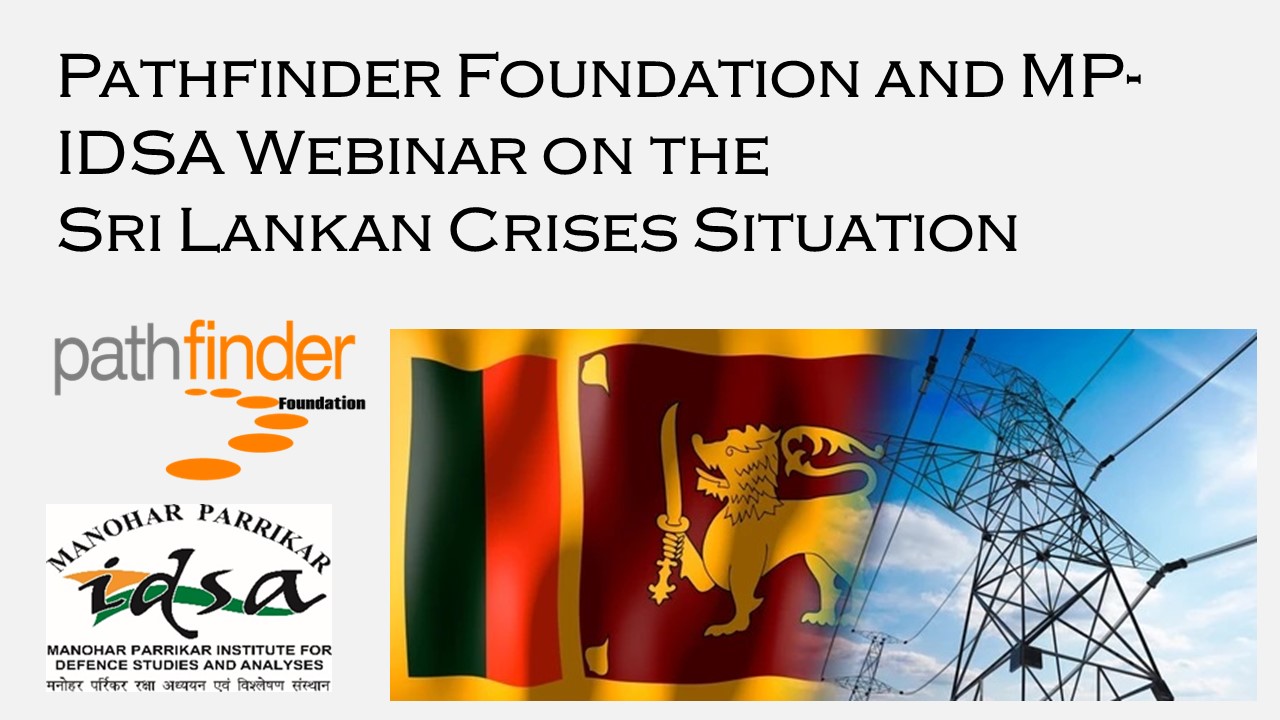 Pathfinder Foundation and MP-IDSA ¬ Webinar on the Sri Lankan Crises Situation Date: 20th September 2022
To foster Indo-Lanka relations and discuss issues of mutual interest, the Pathfinder Foundation, in association with the Manohar Parrikar Institute for Defence Studies & Analyses (MP-IDSA), India, hosted a virtual dialogue focusing on The Sri Lankan Crisis amidst the Geopolitics of Indo-Pacific and Energy Crisis in South Asia and the Role of India. The webinar was held on 20th September under the Chatham House Rule. The Heads of the two institutes, Sujan R. Chinoy, Director General, Manohar Parrikar Institute for Defence Studies & Analyses and Bernard Goonetilleke, Chairman, Pathfinder Foundation, made the opening remarks.
Proceedings were conducted in two sessions. The first, on 'The Sri Lankan crisis amidst the geopolitics of Indo-Pacific', was Chaired by Distinguished Fellow and member of IDSA's Executive Council, Prof. S.D. Muni and presenters from Sri Lanka were Dr Ravi Rathnayake, former Director, Trade & Investment Division, UNESCAP and Sumith Nakandala, Senior Director, Bandaranaike Centre for International Studies (BCIS) & former Secretary General, BIMSTEC. Cmdre Abhay K Singh, Research Fellow and Dr Anand Kumar, Associate Fellow, MP-IDSA, presented the Indian perspective on the topic. Based on Sri Lanka's current crisis, there were suggestions for achieving regional integration through security, democracy, diplomacy and dialogue.
Prof. I M Dharmadasa, Head of the Electronic Materials & Sensors Research Institute (MERI), Chaired the session on the Energy Crisis in South Asia, which is of interest to many. The speakers from India for this session were Mr Sunil Jain, Industry Fellow, University of Petroleum and Energy Studies Dehradun and Dr Gulbin Sultana, Associate Fellow, MP-IDSA. Dr Tilak Siyambalapitiya, Energy Consultant, Managing Director at Resource Management Associate (Pvt.) Ltd. and Mr Nimal Perera, Research Manager and Past Chairman, Sri Lanka Energy Managers Association (SLEMA), contributed to this subject. Some thoughts on how the electricity supply industry can be restructured for mutual benefits, as the need to focus on sustainability in the energy sector and what could be considered clean energy, were discussed during the session.
Dr Dayaratna Silva, Executive Director, Pathfinder Foundation and Dr Smruti S Pattanaik, MP-IDSA, made the concluding remarks on behalf of the two institutions.
20th September 2022