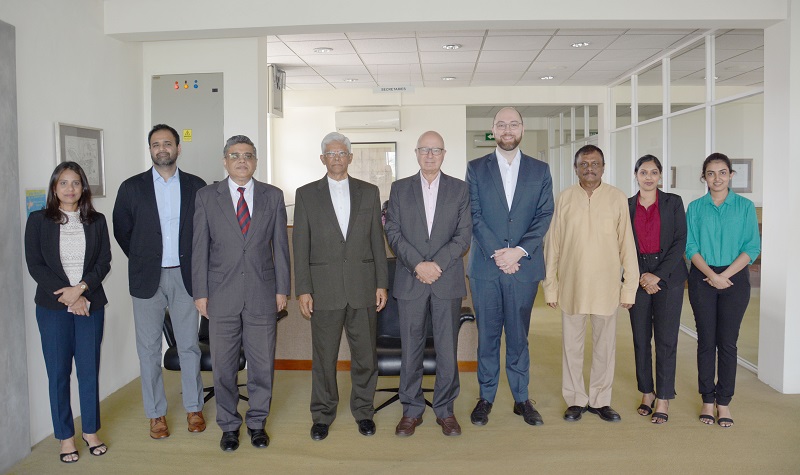 Pathfinder Foundation and Centre for Humanitarian Dialogue Consolidate Ties - 01st December 2022
Pathfinder Foundation and the Centre for Humanitarian Dialogue signed a Memorandum of Understanding and Agreement to consolidate further ties in working together in numerous areas of common interest. The event took place at the Pathfinder Office at 'Riverpoint', Peliyagoda, on the 1st of December. Signing on behalf of the Centre for Humanitarian Dialogue were Michael Vatikiotis, Senior Advisor and Willem Punt, Project Manager. Bernard Goonetilleke, Chairman, and Dayaratne Silva, Executive Director, signed on behalf of Pathfinder Foundation.
The Centre for Humanitarian Dialogue is a Swiss-based private diplomacy organization founded on the principles of humanity, impartiality, neutrality and independence. HD's mission is to help prevent, mitigate, and resolve armed conflict through dialogue and mediation. HD uses the tools of private diplomacy to expand the space for the non-violent resolution of armed conflict. It opens channels of communication and mediates between parties in conflict, facilitates dialogue, provides support to the broader mediation and peacebuilding community, carries out capacity-building work, and conducts research on mediation issues. HD deploys its expertise to support local processes that protect civilians and foster lasting and just peace.
Pathfinder Foundation is a premier think tank that has played a catalytic role in research and analysis aimed at contributing to economic policy reforms in Sri Lanka. Over the years, it has established a wide network of partner organizations worldwide, thereby enhancing bilateral and multilateral partnerships to promote economic, social and political development, in addition to its security and strategic focus. Serving as a platform to engage in critical thinking and cross-disciplinary analysis, Pathfinder Foundation aims to increase knowledge and raise awareness of salient issues with relevant stakeholders locally and internationally. The signing of the MoU and Agreement will enable both institutions to work together to achieve their common objectives.