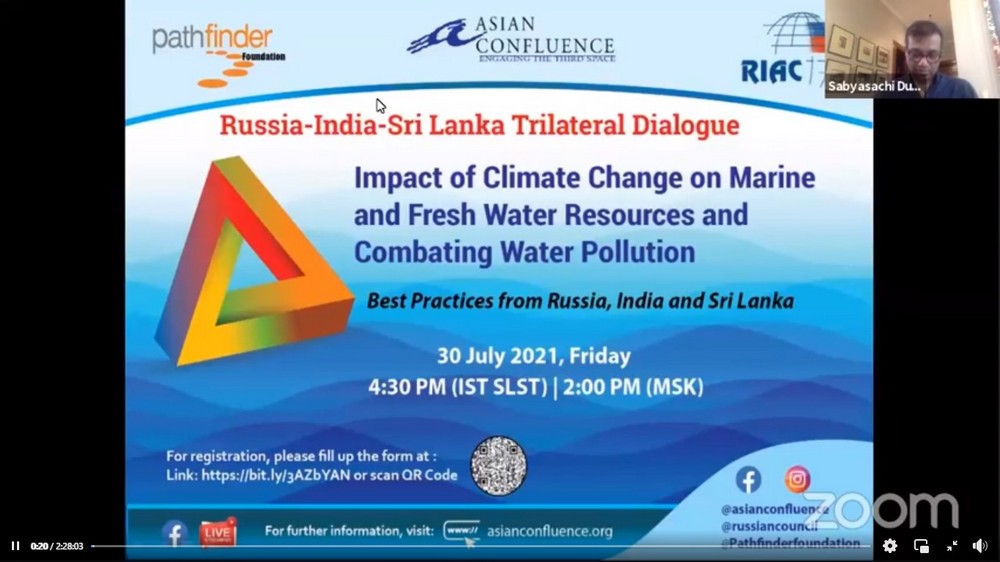 Impact of Climate Change on Marina and Fresh Water Resources and combating Water Pollution
Best Practices from Russia, India & Sri Lanka
---
The Pathfinder Foundation (PF) initiated a trilateral dialogue involving Sri Lanka, India and the Russian Federation to discuss issues of contemporary relevance such as:

1. Current status of the climate change
2. The impact of climate change and pollution on marine and freshwater resources
3. Cooperation on adaptation and mitigation in the context of water resources,
4. Sharing of best practices between Russia, India and Sri Lanka on addressing the climate change challenge

The first trilateral dialogue was held on Friday, July 30, 2021. 4:30 PM SLST on the theme of "Impact of Climate Change on Marine and Fresh Water Resources and Combating Water Pollution: Best Practices from Russia, Sri Lanka and India".

For this dialogue, Pathfinder Foundation partnered with the Russian International Affairs Council and the Asian Confluence.